PulseBlasterDDS-II-300-AWG: Programmable TTL and Dual Channel Direct Digital Synthesis RF Pulse Generator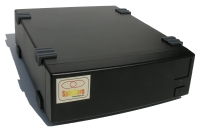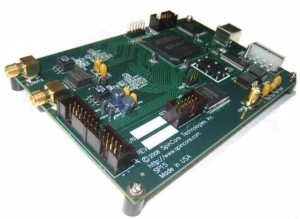 The PulseBlaster DDS™ series of Intelligent Pattern and Waveform Generation boards from SpinCore Technologies, Inc., couples SpinCore's unique Intelligent Pattern Generation processor cor

e

, dubbed PulseBlaster™ , with dual Direct Digital Synthesis (DDS) units for use in system control and pulse generation.

The PulseBlaster's state-of-the-art timing processor core provides all the necessary timing control signals required for overall system control and pulse synchronization. The additional DDS features allow the PulseBlaster DDS-II-300-AWG to provide not only digital (TTL) but also analog output signals from two independent RF output channels, ranging in frequency from 5 kHz to 100 MHz. This allows the PulseBlaster DDS-II-300-AWG to meet high-performance and high-precision complex excitation/stimuli needs of demanding users. The PulseBlaster DDS-II-300-AWG also provides users the ability to control their systems through the generation of fully synchronized (digital and analog) excitation pulses from a small form factor USB board. The PulseBlaster DDS-II-300-AWG also contains user-programmable Arbitrary Waveform Generation (AWG) capabilities for modulating the shape of the output waveforms for both analog outputs.


Key Specifications
Four vectored interrupts with programmable InterruptService Routine (ISR) registers
Interrupt enable registers to disable or enable interrupts on-the-fly
User programmable registers to specify which "NORMAL" vs. "IMMEDIATE" interrupts

Normal Interrupt: Waits for the current instruction to complete, then performs the ISR and returns to the start of the next instruction
Immediate Interrupt: Stops the current instruction immediately, performs the ISR and then returns to the beginning of the next instruction

Hardware and software interrupt triggers
124 bit instruction memory words
4K instruction memory words
Programmable Pulse Program start address allowing the user to program the board once with multiple pulse programs, then pick the program entry point with a single write to the board
Modifiable Pulse Programs while the core is running
User programmable default return-to state for core flags when the core is not running, allowing for full control of flag outputs by the user when the core is STOPPED
1024 Frequency registers for each DDS output
128 Phase registers for each DDS output
1024 Amplitude registers for each DDS output
All DDS registers are programmable while the PulseBlaster Core is running
Applications
Complex, high-speed, multi-channel pulse, pattern, and word generation. Customers' applications have included
Complete high IF digital excitation system for high field NMR/MRI (just add mixers!).
Complete bench test equipment for solid-state NMR probes (just add mixer and power amplifier!) - eliminates the need for wasting the precious magnet time.
Build a multi-qubit NMR quantum computing device at a fraction of the cost of other solutions.
Use it for all-digital CRAMPS, SFAM, and other "exotic" solid-state NMR experiments.
Build a lock system.
Build a demostration NMR system with/for your students
Use it for Senior-Project and Masters' classes.
Use with your microcoil probe.
Build and control your own equipment for "hyphenated" experiments, LC-NMR, etc.
For more ideas, please visit our Applications page
Ordering Information

The PulseBlasterDDS-II-300-AWG is currently not available for online purchase.

Available firmware options for PulseBlasterDDS-II-300-AWG

:
Firmware
Phase registers

Frequency registers

Amplitude registers

TTL output signals

14-2

8
16
4
12

14-3
(standard)

128

1024

1024

4

Product Manual
Free Software Support
Available to supplement the SpinAPI Package:

Example programs (executables and C source files)

The SpinAPI package and other resources available for download on the Software Downloads page.
Interfaces and examples - LabView
Modulation Techniques example pages

Warranty Information
Standard warranty - two years
Longer warranty periods available
Money-back guarantee – 30 days.