RadioProcessor
---
Complete RF Acquisition and Excitation System with Digital Detection, Real-Time Signal Processing and Signal Averaging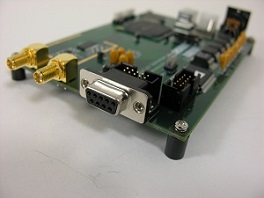 Models and Ordering Information
RadioProcessor Model Options
RadioProcessorUSB board (Power supply sold separately).
| | | |
| --- | --- | --- |
| Model | Price | Order |
| TRX-I-50-75-300-AWG | $6995 | |
Note: Current RadioProcessors have Arbitrary Waveform Generation (AWG or 'shaped pulse') capability

Additional Options

RadioProcessor is SpinCore Technologies' general purpose, broadband, radio frequency (RF) digital data acquisition and excitation system. The RadioProcessor can serve as a complete system console for Nuclear Magnetic Resonance (NMR) or Nuclear Quadrupole Resonance (NQR) with spectrometer frequencies from 0 to 100 MHz (certain restrictions apply, see the Manual).

This unique digital system is housed on a small form factor USB board, providing users with a compelling price/size/performance proposition unmatched by any other device on the market today.
Key Specifications
Integrates excitation and acquisition components onto a single board.
Directly captures and digitally demodulates IF/RF signals using quadrature detection. The desired baseband bandwidth is user definable through software.
Generates completely formed RF excitation pulses as well as high resolution digital control signals.
Supports 2 analog I/O channels and 4 digital output channels.

Select models have Arbitrary Waveform Generation (AWG or 'shaped pulse') capability.
Maintains signal coherence between excitation and acquisition systems at all frequencies.
Autonomously signal-averages the baseband data between multiple acquisitions.
Samples the input signal at up to 75 Ms/s with 14-bit resolution.
Captures input signals above the Nyquist frequency, up to approximately 100 MHz.
With signal detection enabled, provides up to 10 MHz bandwidth of baseband data.
Direct Digital Synthesis generates RF output pulses with 14-bit resolution up to 300 Ms/s clock frequency.
Standard clock stability of 100 ppm, with optional oven-controlled clock oscillator (OCXO) of 200 ppb.
Pulse setting resolution up to 13.3 ns, pulses from 66.6 ns to days per interval.
Zero-latency phase and frequency switching.
Wide-bandwidth input amplifier and A/D converter allow for undersampling applications.

Applications
Advanced, automomous, broadband, Nuclear Magnetic Resonance (NMR), Magnetic Resoance Imaging (MRI), and Nuclear Quadrupole Resonance (NQR) experiments from 0 to 100 MHz. Customers applications have included
Hyperspectral analysis for Homeland Security applications on mobile unmanned platforms (UAV)
MRI Console
Solid-state NMR of Quasi-Crystals
Solid state physics experiments
Nanomagnetism and spintronics applications
Well-bore NMR analysis for oil drilling
NQR of novel pigments
NQR of explosives for airport security baggage screening
Doppler radar non-contact vital sign detection - data acquisition and digital signal processing
Digital communication and encryption
Quantum Computing
Turbine exhaust gas analysis
Moisture content analysis of natural products>
Chemical manufacturing plant process optimization
Lock system for high-field NMR
Vital Signs Detection System

General laboratory use
For more, please visit our Applications Page


Sample NMR Spectra obtained with RadioProcessor
High Resolution Solid State NMR Spectra, Submitted by Dr. Tom Pratum, Western Washington University, USA.
Product Manual
Free Software Support
Warranty Information
Standard warranty - two years
Longer warranty periods available
Money-back guarantee - 30 days.